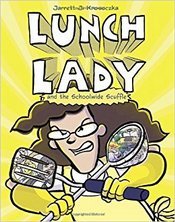 WE GOT THIS!
---
CELEBRATE YOUR LUNCH LADIES ON MAY 9TH!
BELOW IS THE UPDATED INFORMATION FOR THIS SCHOOL YEAR. PLEASE TAKE THE TIME TO COMPLETE A FORM FOR THE LUNCH PROGRAM WHEN REGISTERING
LUNCH APPLICATION FACTS:
YES! YOU MUST FILL ONE OUT EVERY YEAR, THEY DO NOT CARRY OVER YEAR TO YEAR.
WE WILL BE THERE TO HELP AT REGISTRATION!
2018-2019 APPLICATIONS ARE AVAILABLE
Click on
"APPLICATIONS & INFORMATION ABOUT PAYING FOR LUNCHES"
2018-19 LUNCH PRICE
STUDENTS
PK-12 Breakfast - Free
PK-6 Lunch - $2.50
7-8 Lunch - $2.60
9-12 Lunch - $2.70
ADULTS
Breakfast - $2.75
Lunch - $3.85
SAVE MONEY - APPLY TODAY!