We have had some changes and additions for this week's athletics. This is the most current information we have.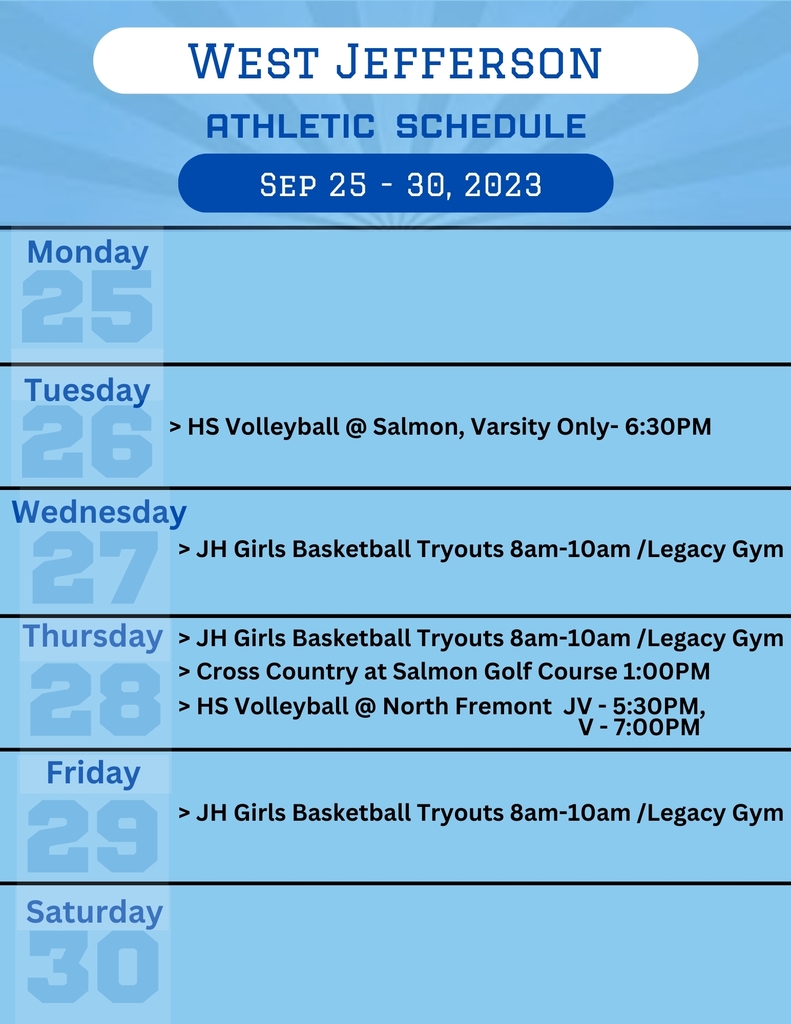 Dance Classes for ages 4-10 taught by Jaylee Ball beginning October 6th. *This is not a school sponsored class, but we were asked to share the information for our elementary students.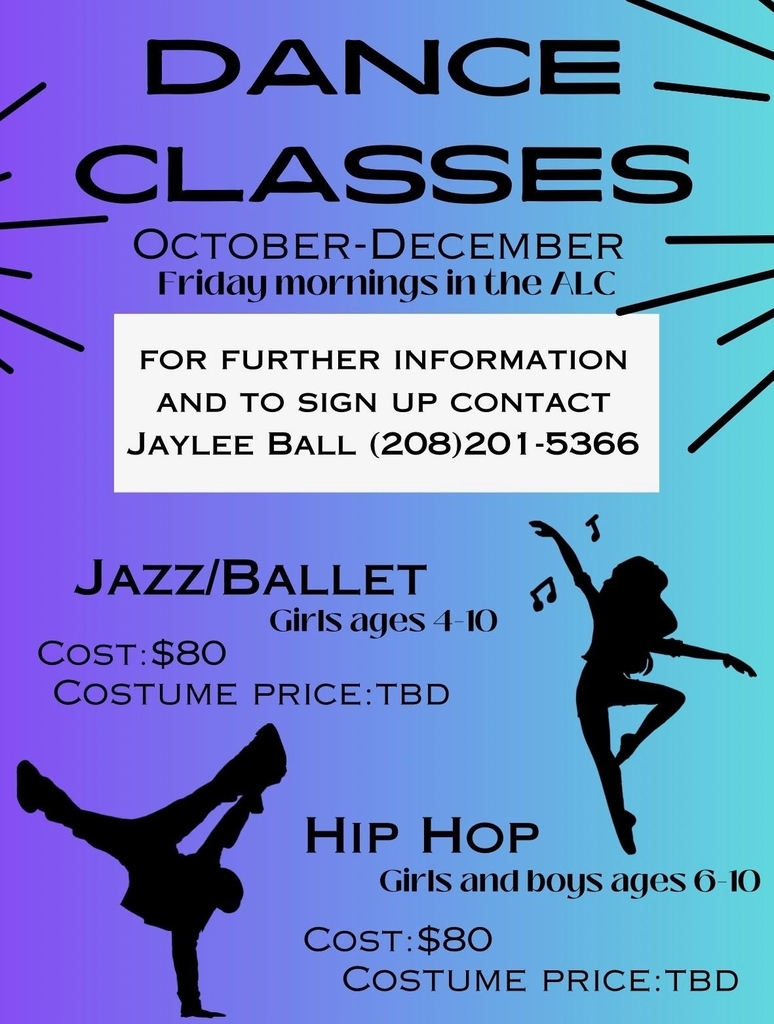 Junior High Girls Basketball Tryouts will be held during the first week of Harvest Break Please spread the word to any 7th or 8th grade girl who might be interested.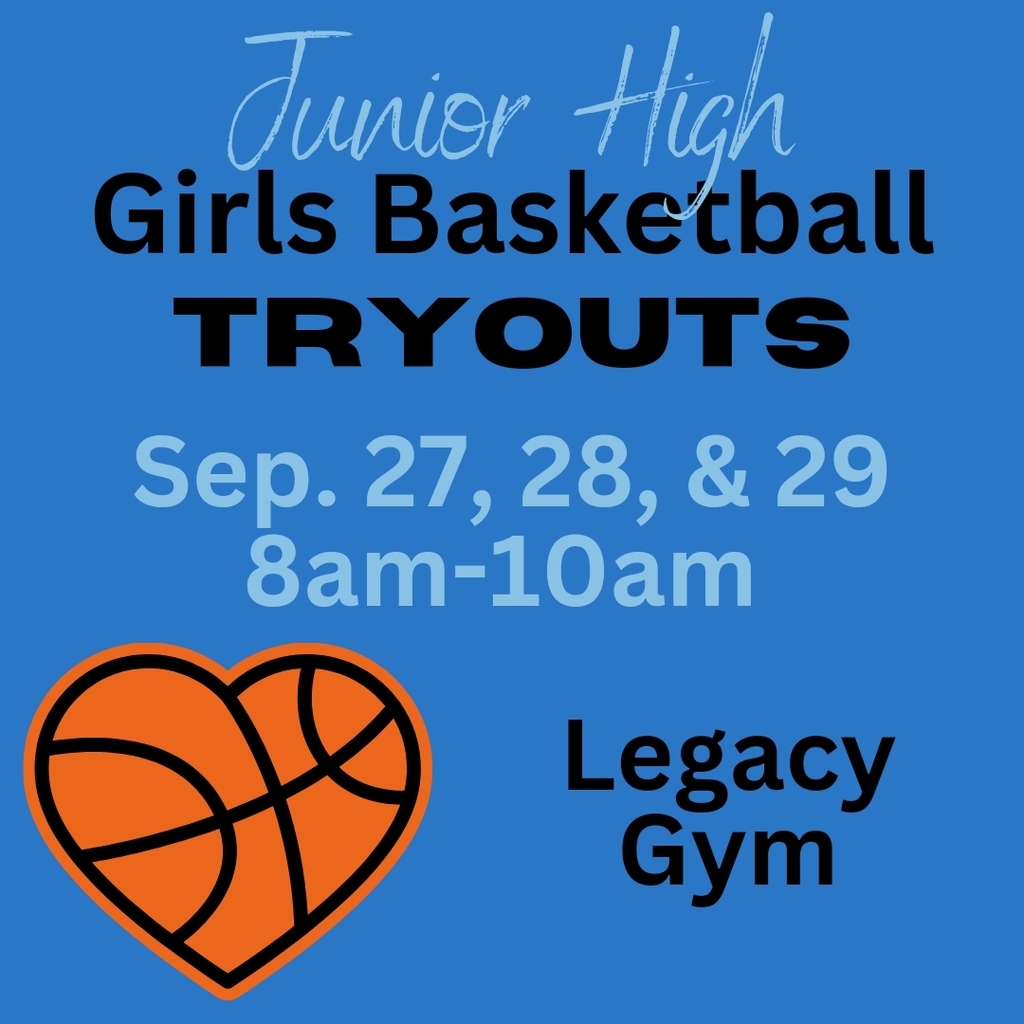 Retake Day for West Jefferson High School - Oct. 11th Sports Photos for WJ High School & Junior High - Oct. 11th Retake Day for Terreton Elementary & Junior High - Oct. 17th Here is the link for WJSD to order online for those who missed ordering and/or would like to order add-on items, such as magnets.
https://joshpphoto.hhimagehost.com/V2/Home/LoginConsumer?EK=247238
To login, enter your email address and in the access code box enter your child's student ID./lunch number. If you have any questions, contact
josh@joshpetersen.com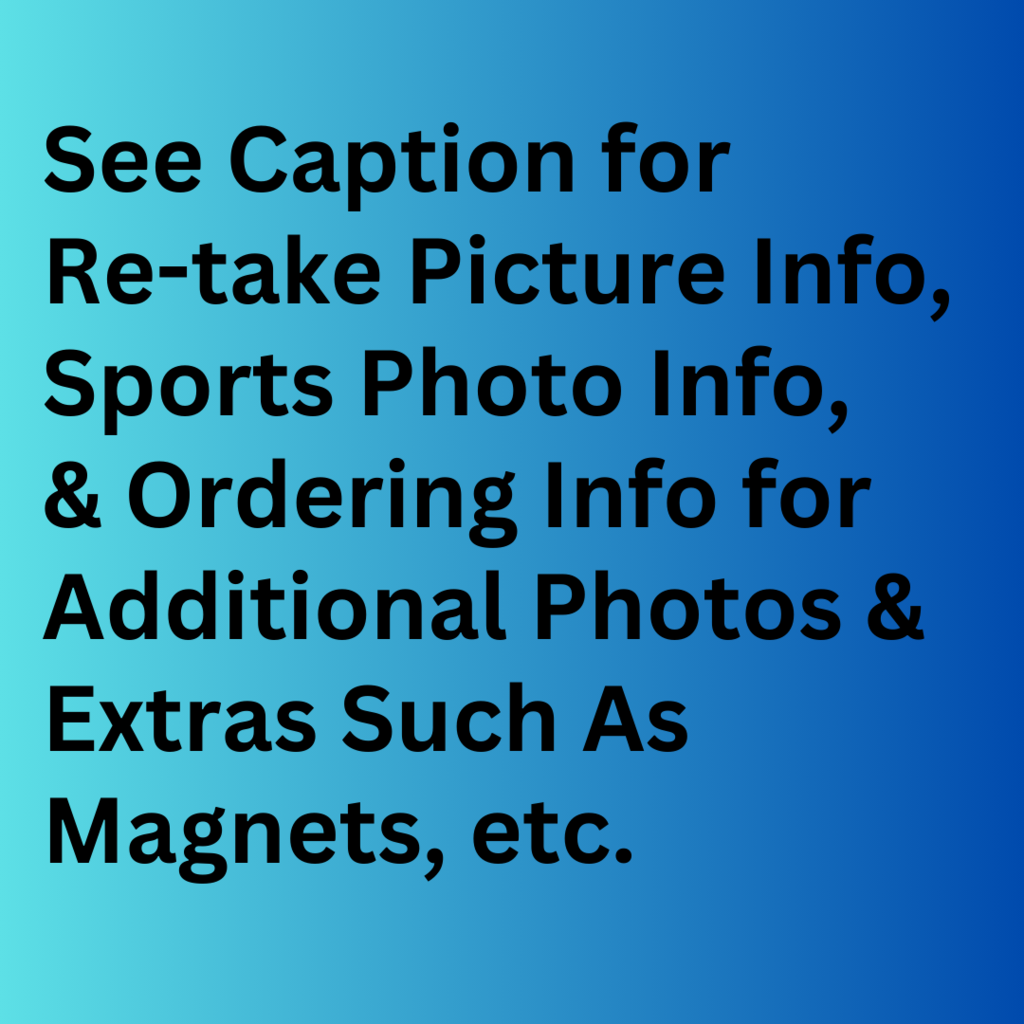 Tonight's Homecoming Bonfire has been CANCELED due to weather. (Thurs. 9/21)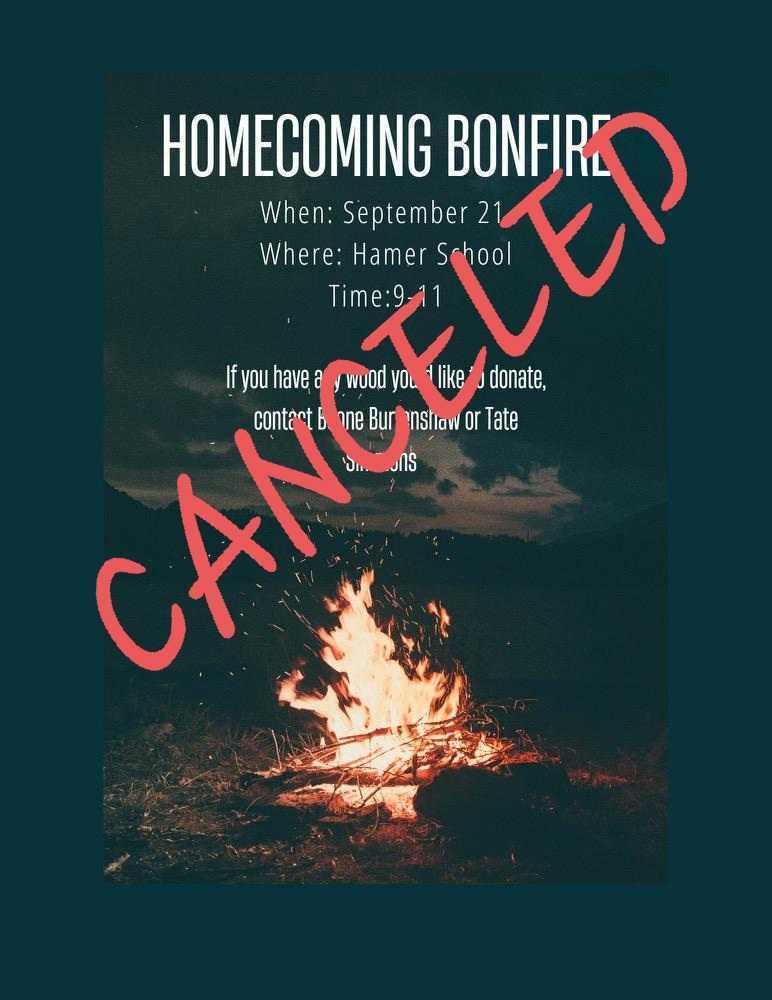 Our WJ FFA Soils and Range Teams had a great day competing in Districts. Eight West Jefferson students traveled to the competition at the Ririe Church Farm. On our Soils Team, Lucas Hillman took 4th place overall out of 40 kids. Our Range Team took 4th place overall which qualified them to attend the State Judging Competition in Pocatello on October 10th. Team members are Kyla Seamons, Brynlee Bitter, CJ Day, Ryan Rigby, William Anhder, & Seth Brown. Thank you to Mrs. Chandra Day and Mr. Jon Hogge for all you are doing for our FFA program.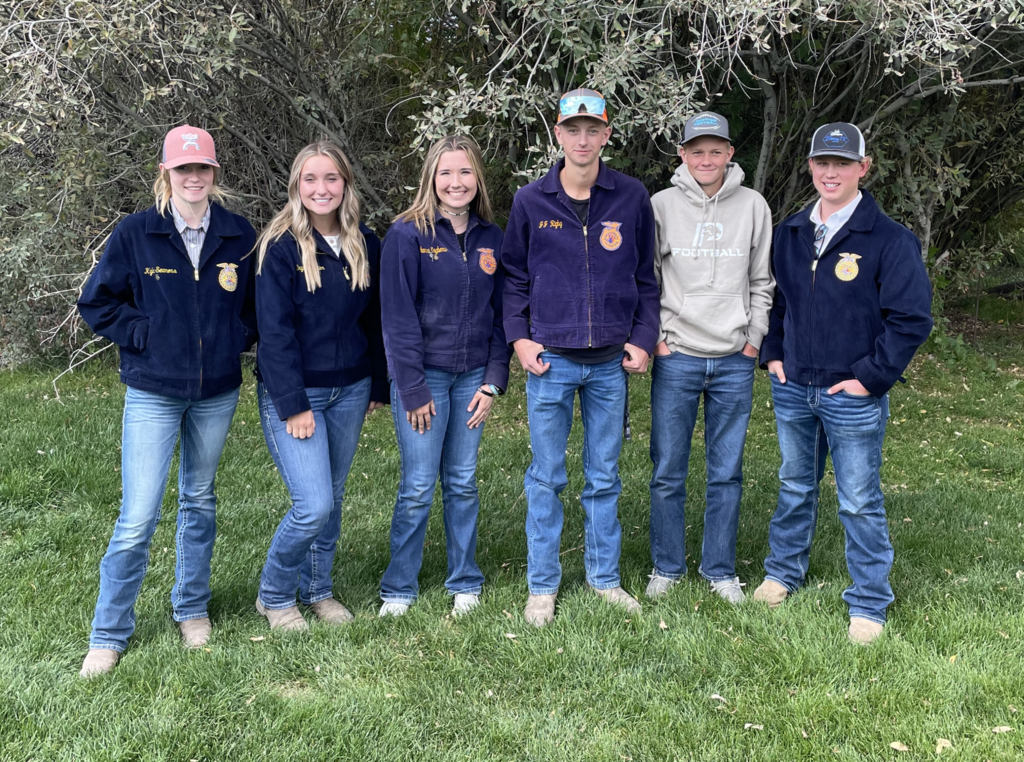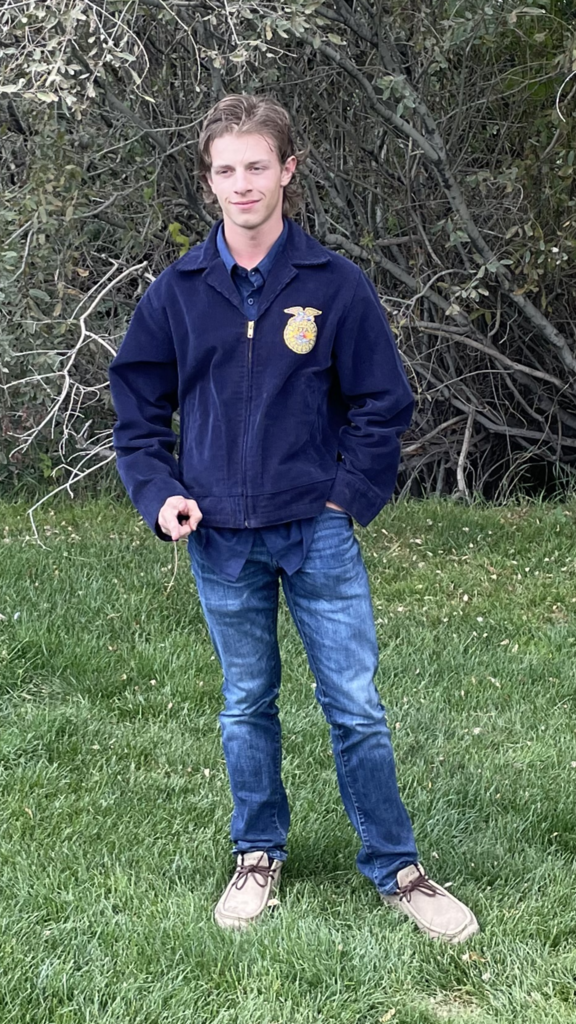 Terreton PTO has you covered for dinner this Thursday, September 21st! Be sure to get your meals early because they sell out every year! Pick up your meals at the ALC Building or at the concession stand in the Panther Den while you are cheering for our Volleyball team! WJ Staff gets half-price meals!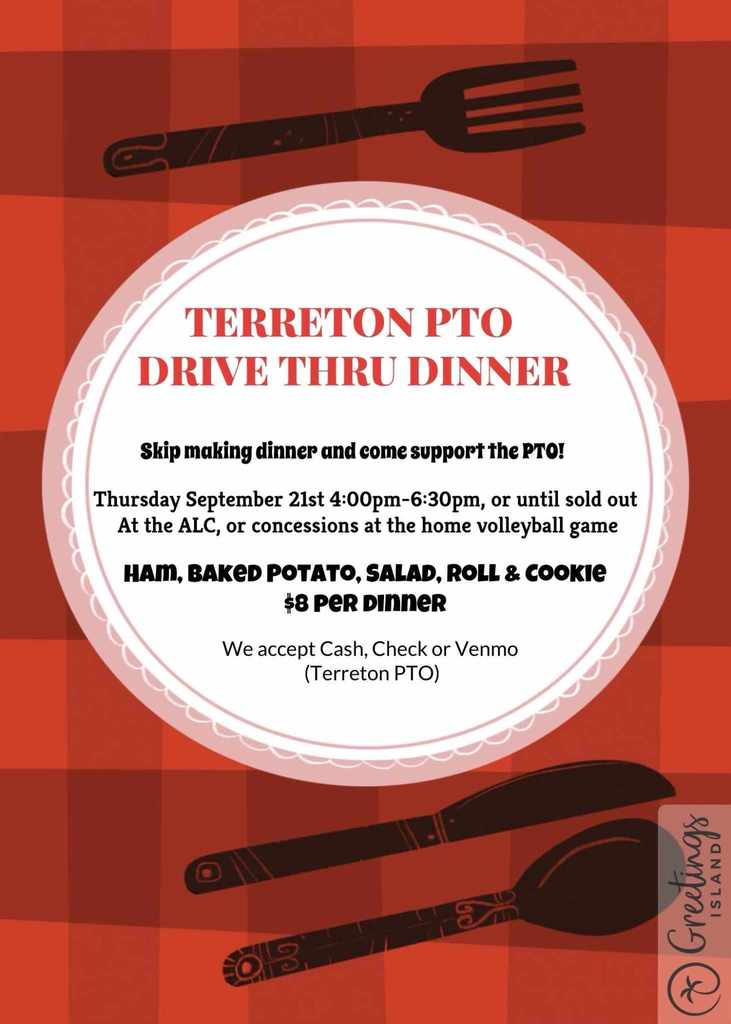 Regular School Board Meeting - Thursday, September 21. Executive Session will begin at 12:30pm followed by Regular Session at approximately 1:30pm. Since this is our Regularly Scheduled Board Meeting, it will be open to the public and also broadcast on the WJ School District YouTube page:
https://www.youtube.com/@westjefferson253/videos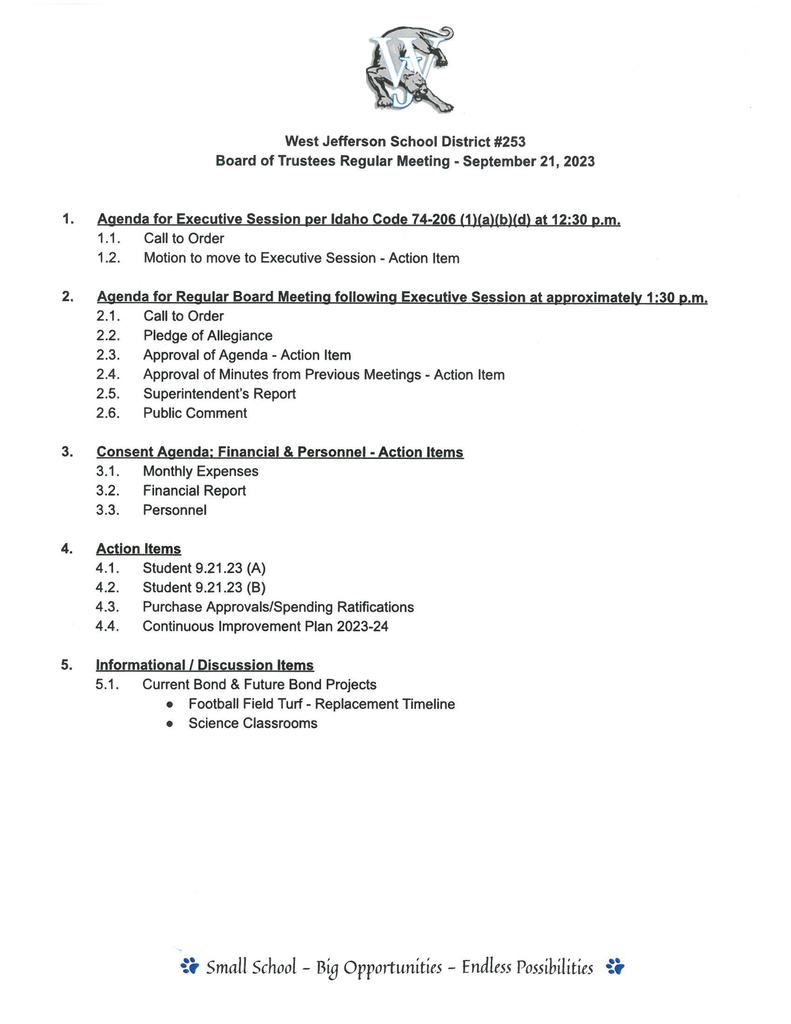 Attached are a few events that are coming up and could easily be overlooked due to the Harvest Break. Please contact Mr. Gemar if you have any questions about any of them.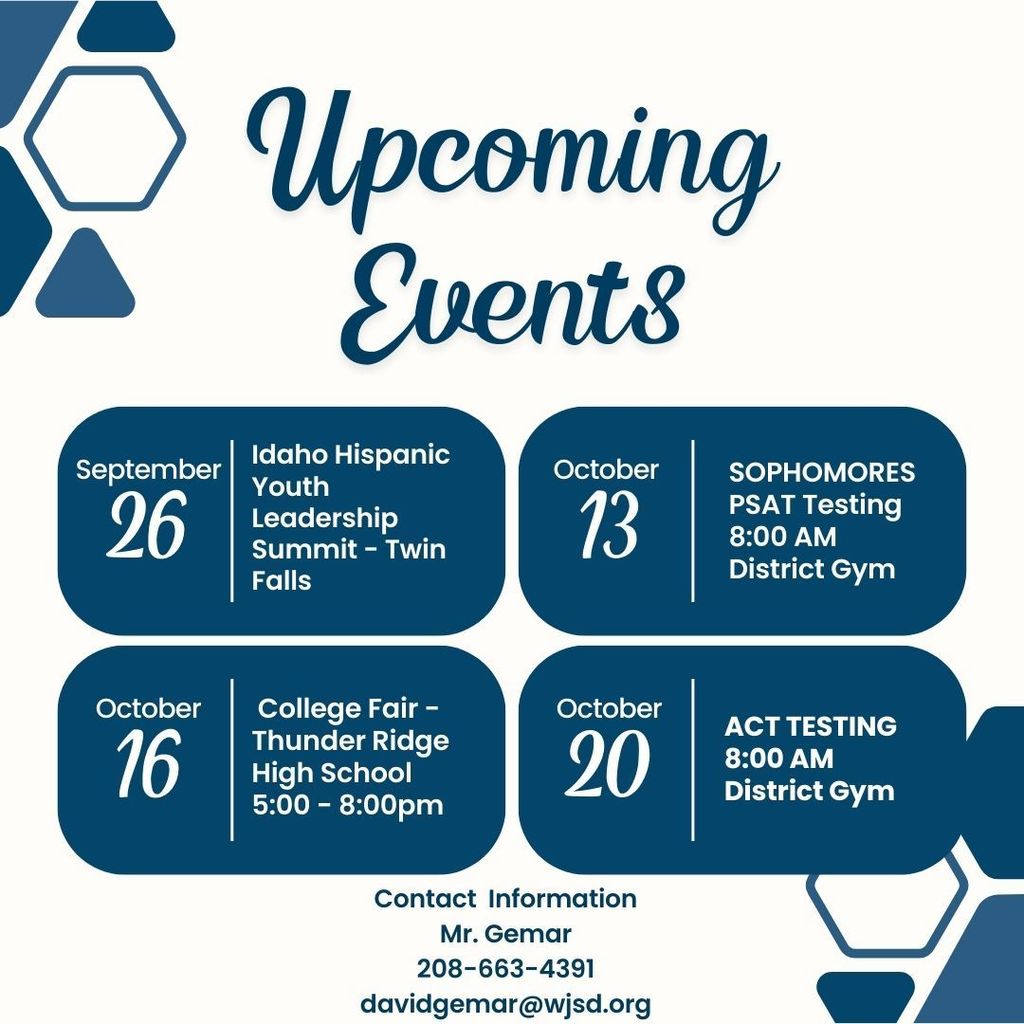 Our West Jefferson FFA Team participated in Livestock Judging at the Eastern Idaho State Fair. Here are the results. Great Job!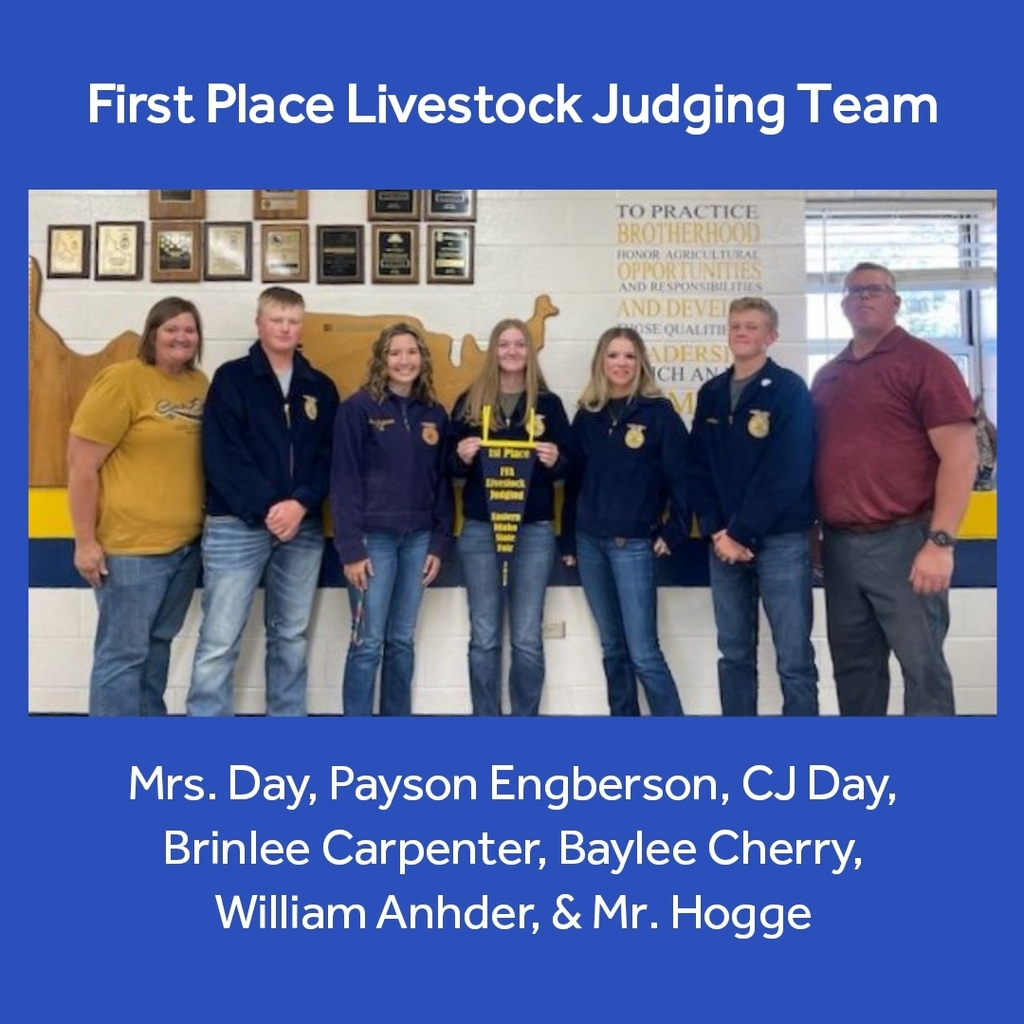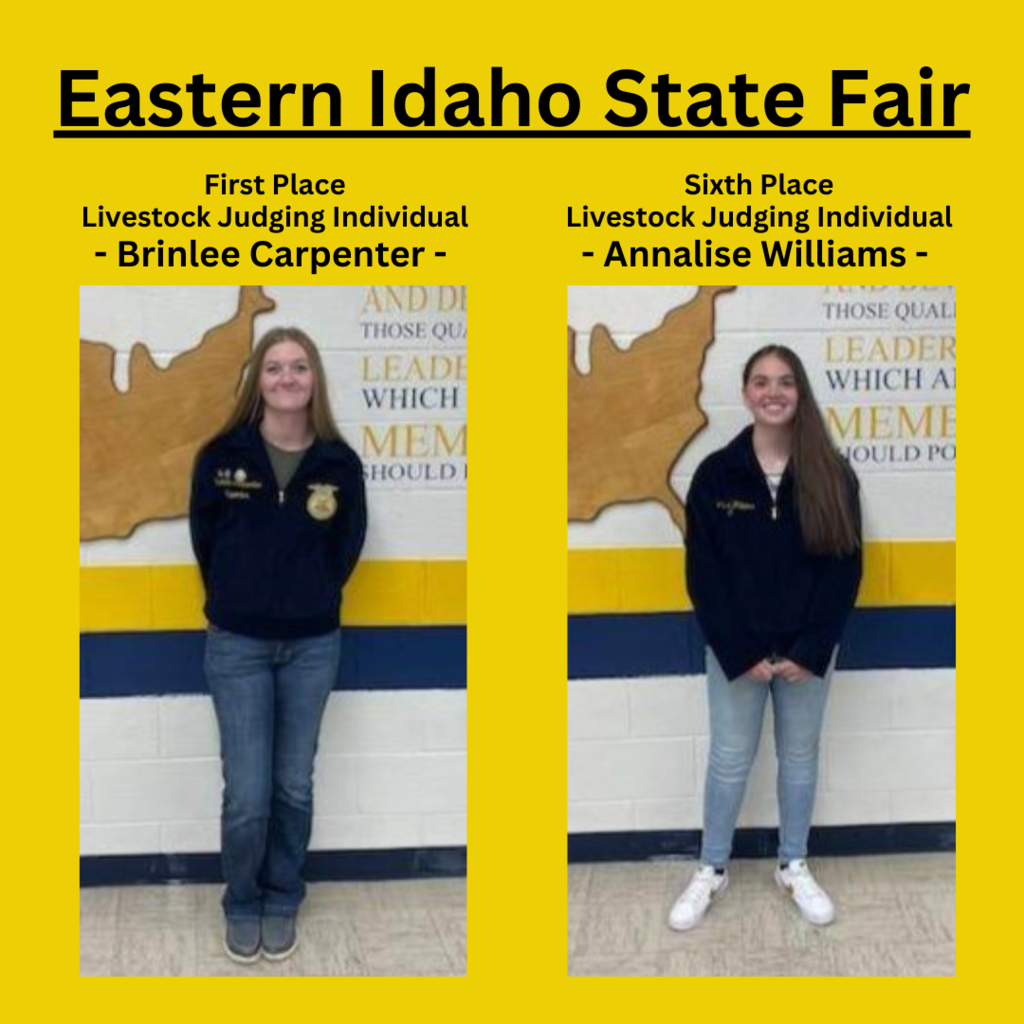 2024 American Heritage Tour has been planned for March 22-30, 2024. Juniors and Seniors that want to go need to sign up with Mr. Gore and pay the first payment before Thursday, Oct 12th! (Mr Gore has moved the payment due dates slightly later than the payment schedule on the flyer so that the students are able to work during Harvest Break to earn money towards their trip.) Parents, chaperones, and community members will be invited to sign up the week of October 16-19.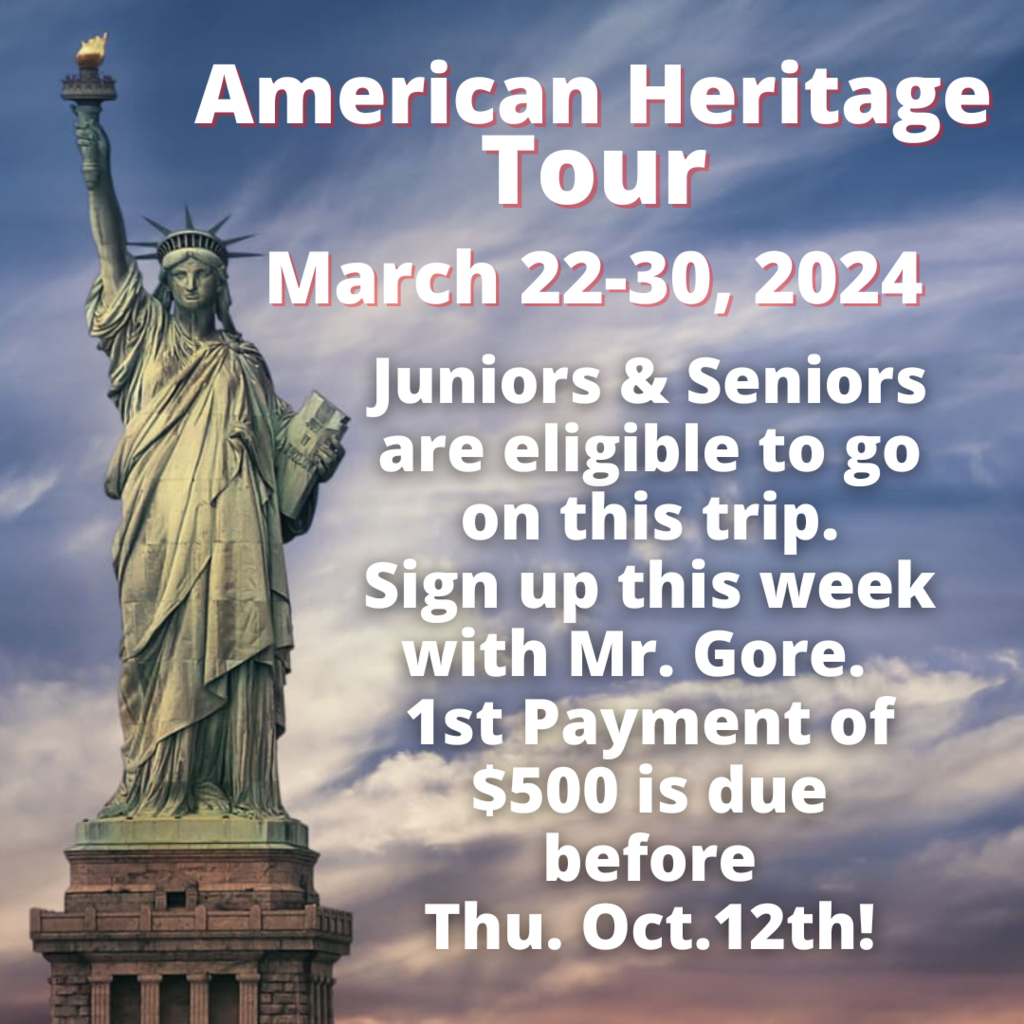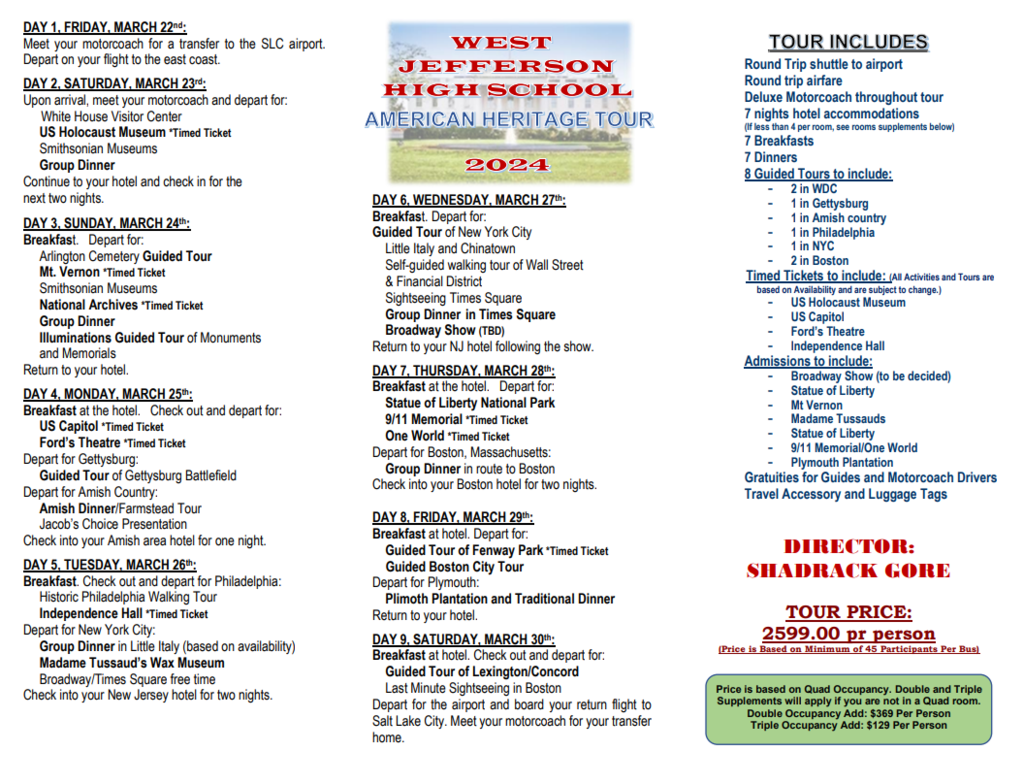 Here are our Athletics Events happening for Homecoming Week!

If you need help accessing our WJ App, please contact our Technology Supervisor, Jon Reyna at
reynaj@wjsd.org
.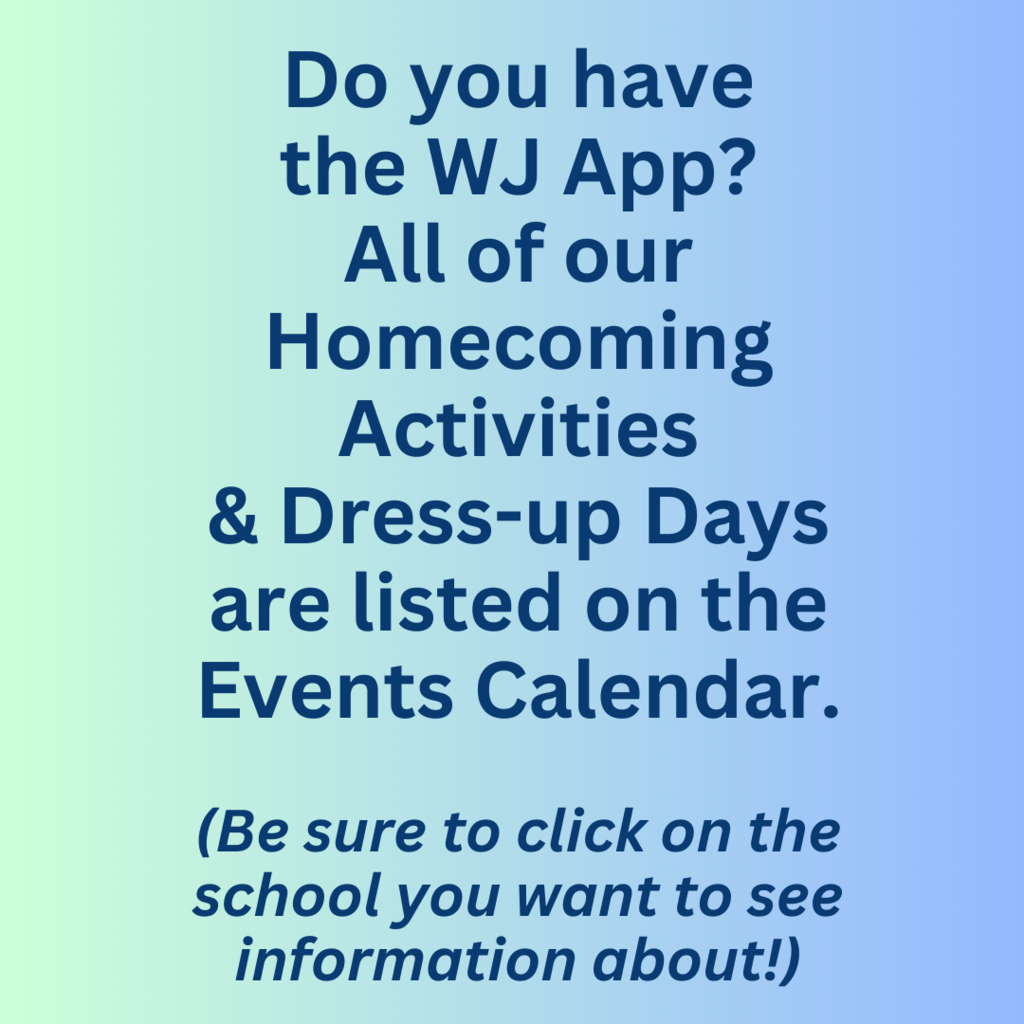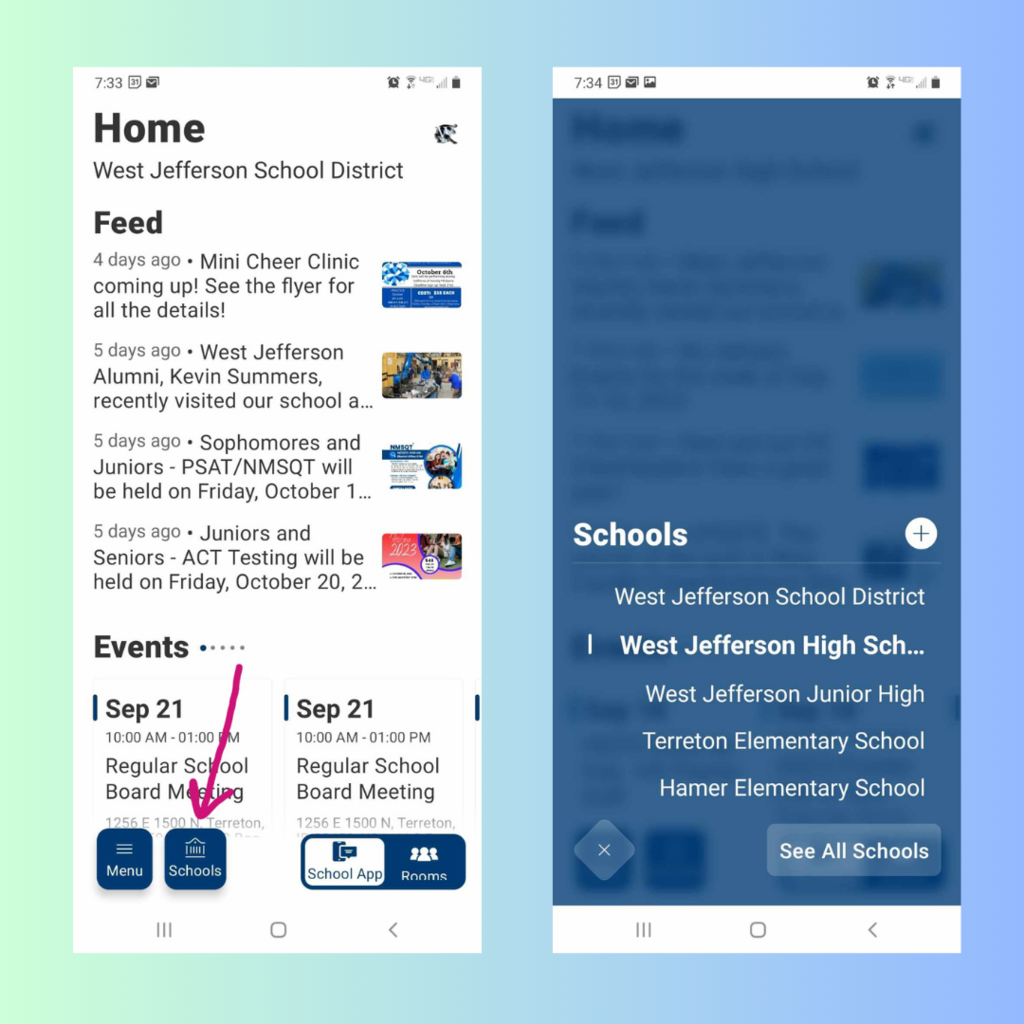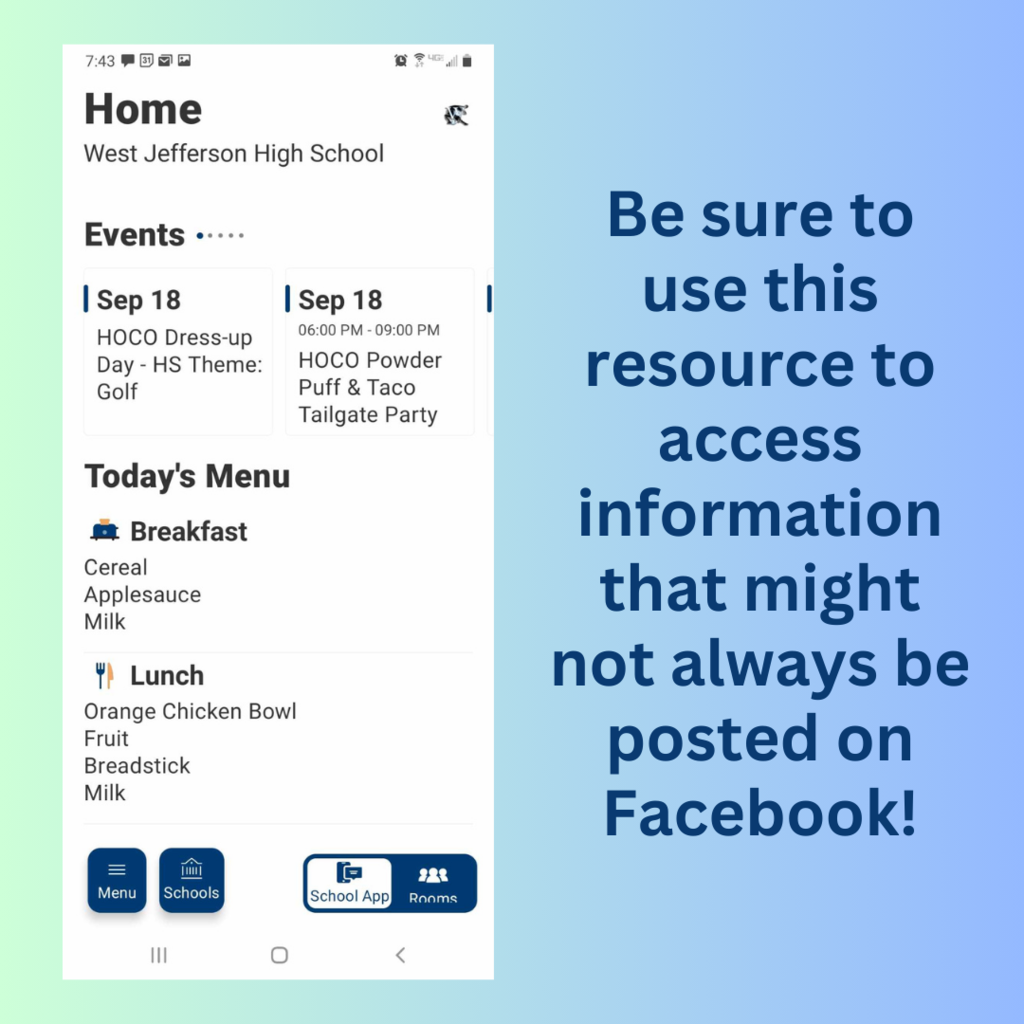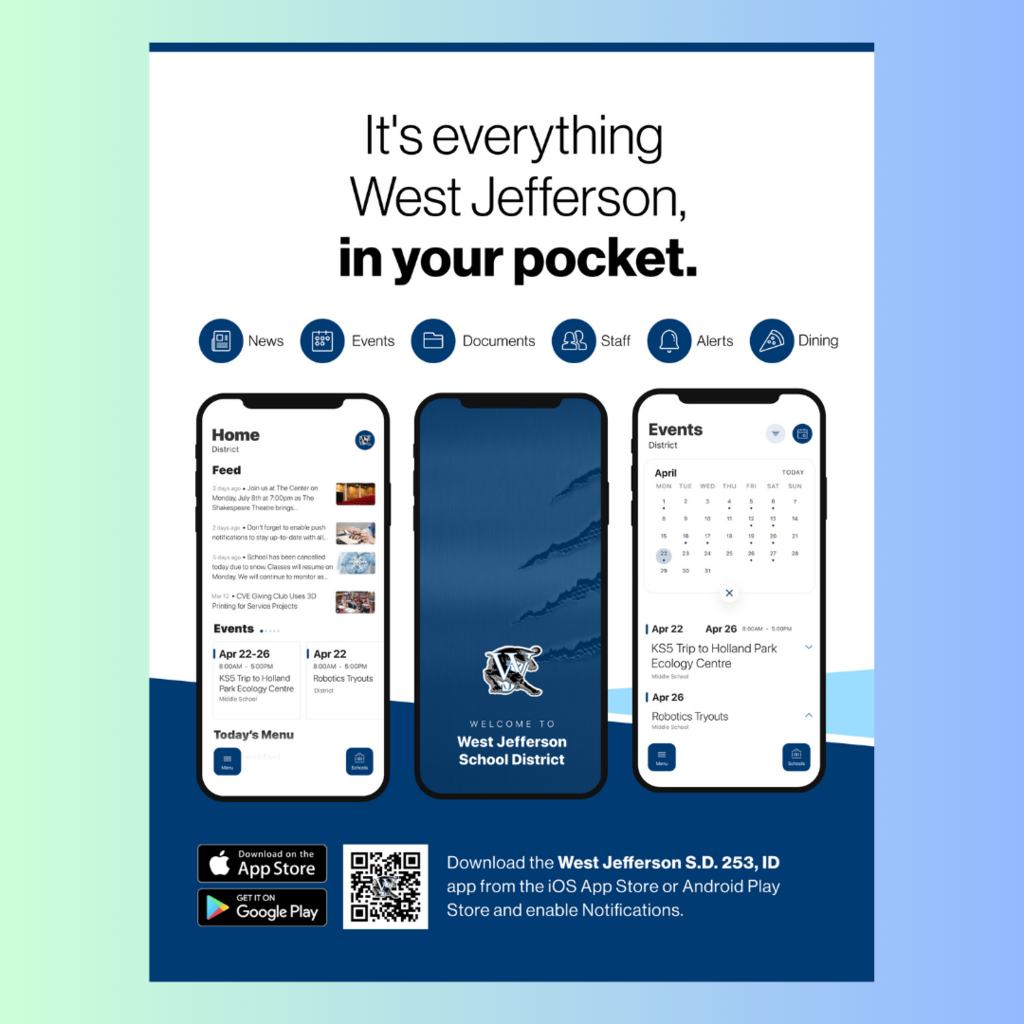 Mini Cheer Clinic coming up! See the flyer for all the details!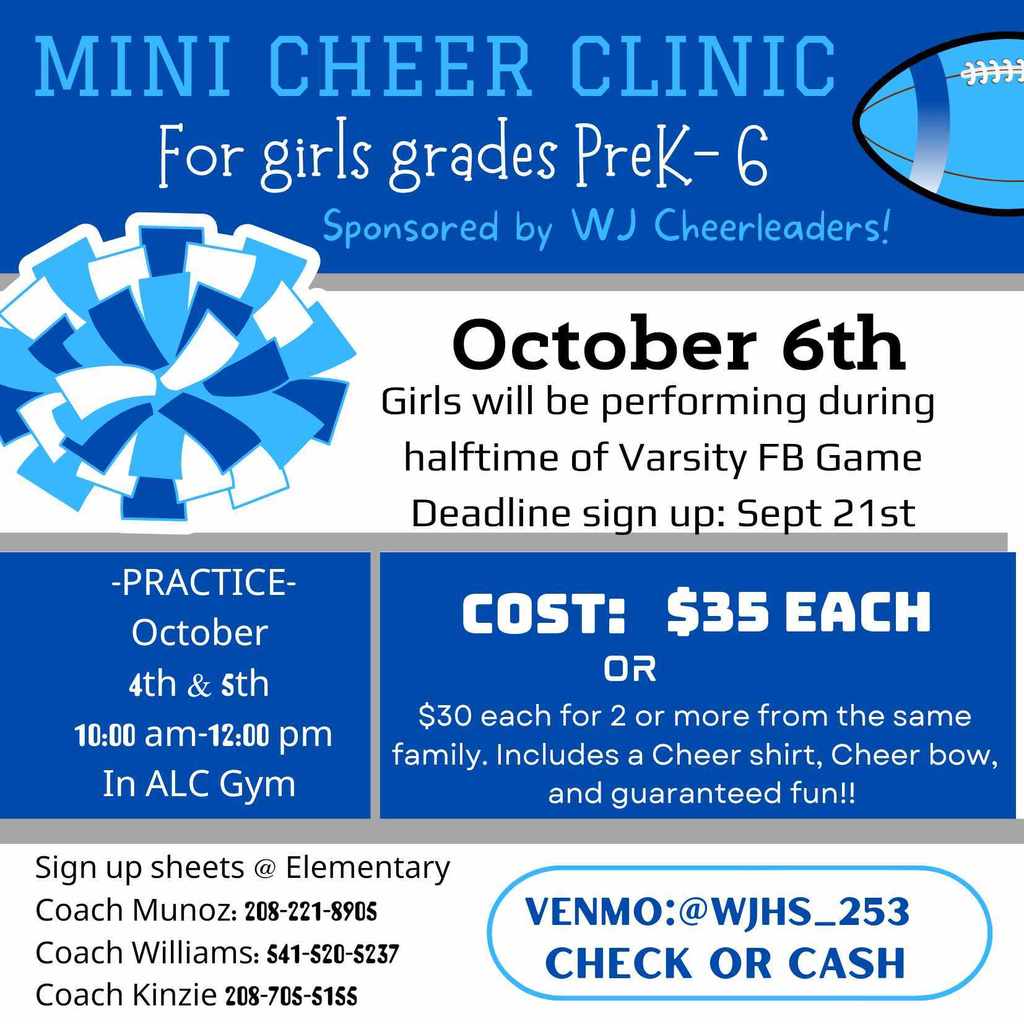 West Jefferson Alumni, Kevin Summers, recently visited our school and brought with him a Robotic Welder. He helped the Ag students create programs on the computer and then the next day, he demonstrated how the welder works using those programs. Kevin generously gave away five welding helmets and approximately twenty pairs of gloves to the students. (Side note: Kevin originally brought in three welding helmets to give away, but when he witnessed our students saying the Pledge of Allegiance at the beginning of school and learned that West Jefferson students say the pledge every day, he went back out to his car and brought in two more helmets with a Patriotic design on them that he added to the giveaway.) A big thank you to Kevin Summers for sharing this with our students!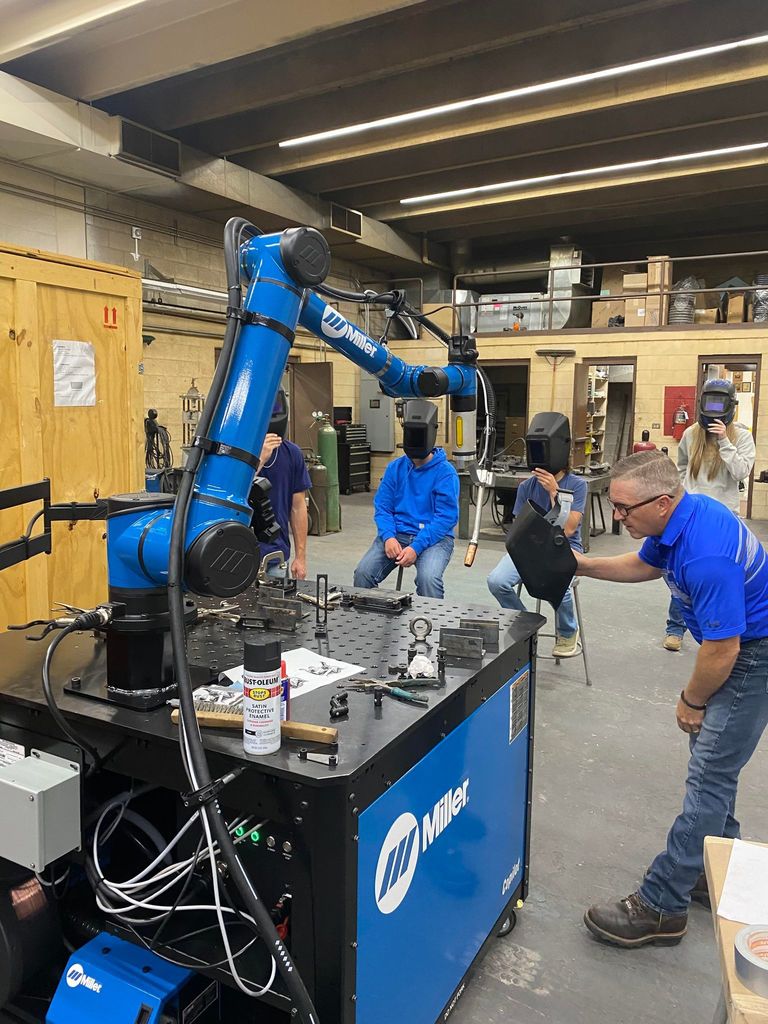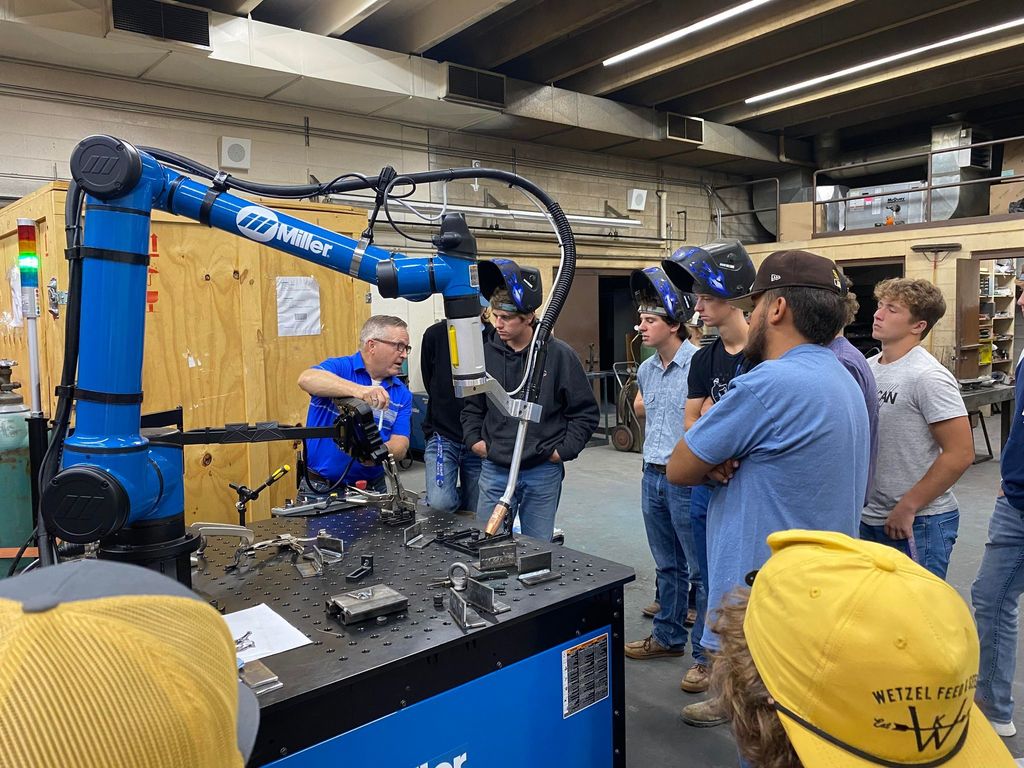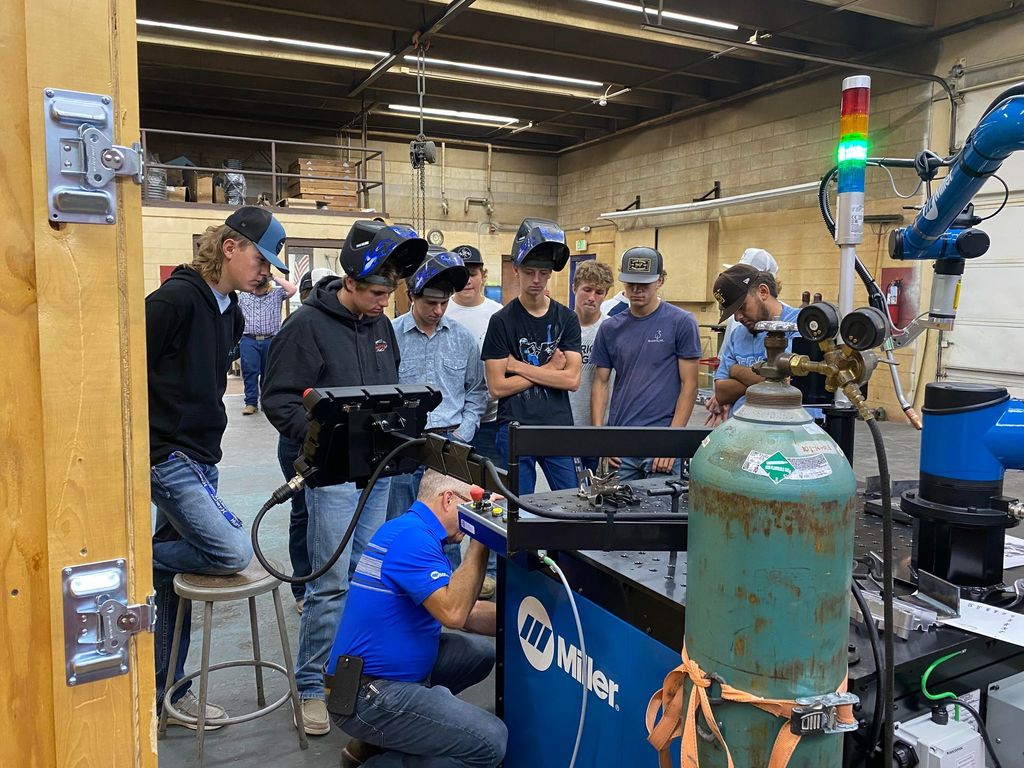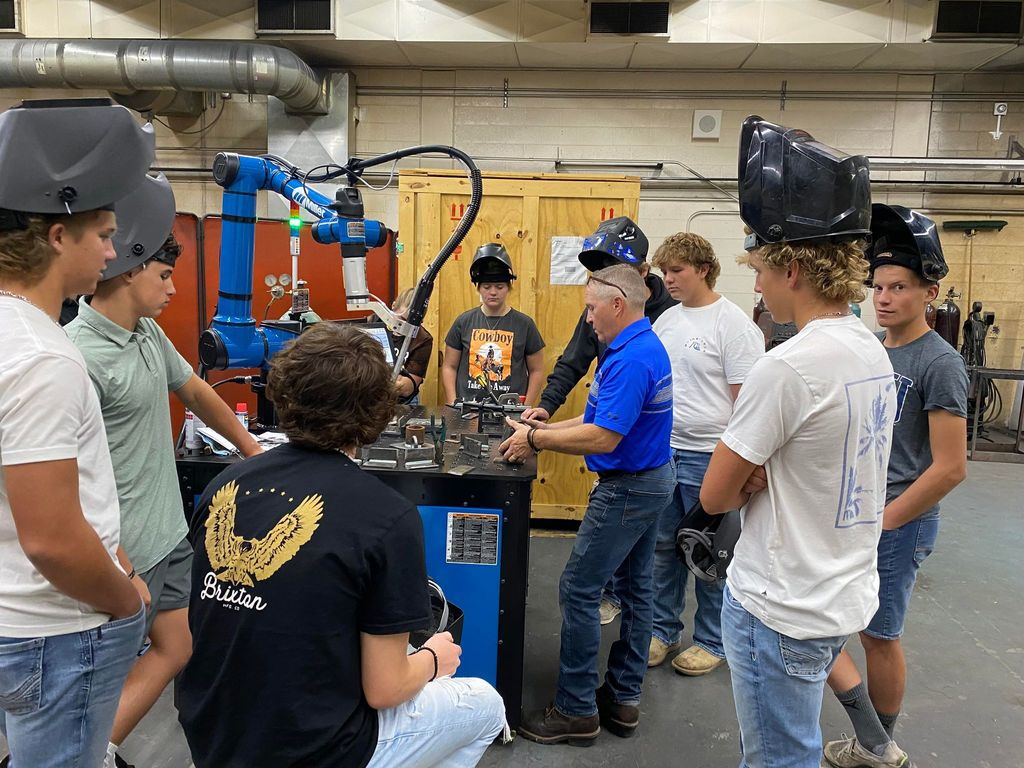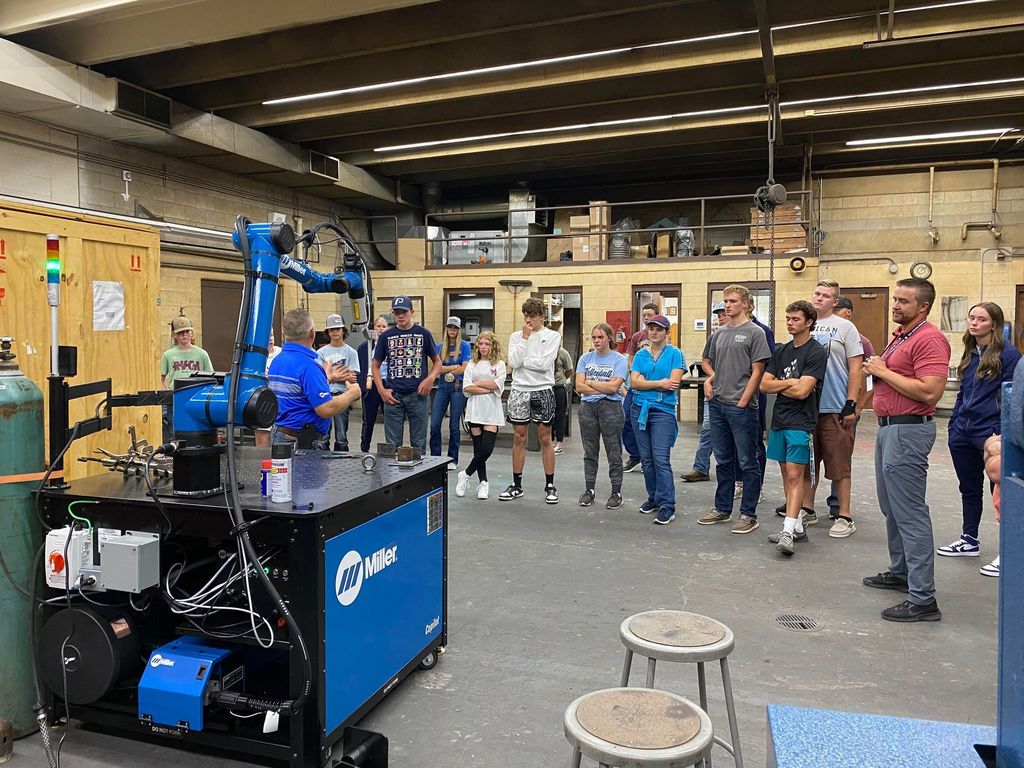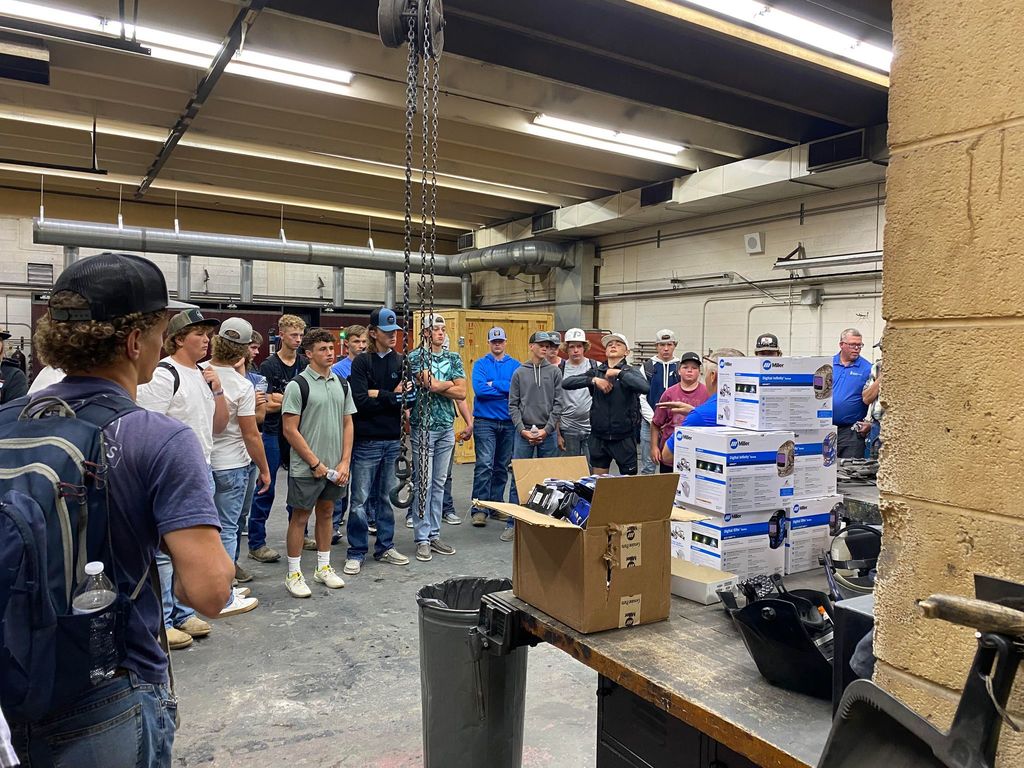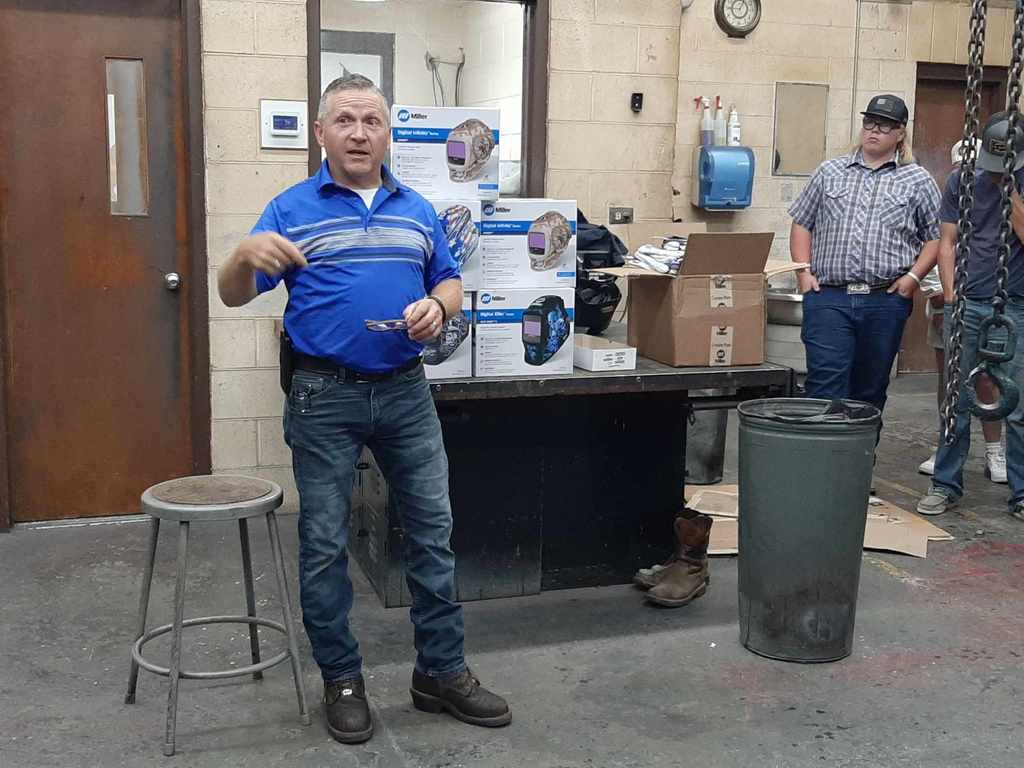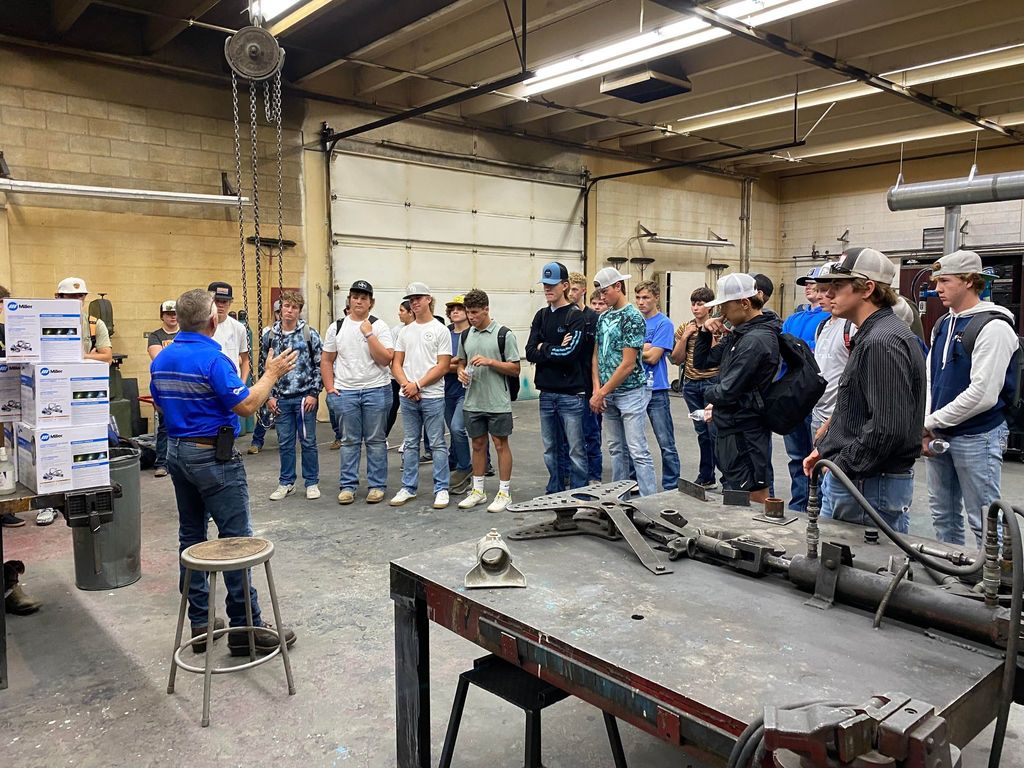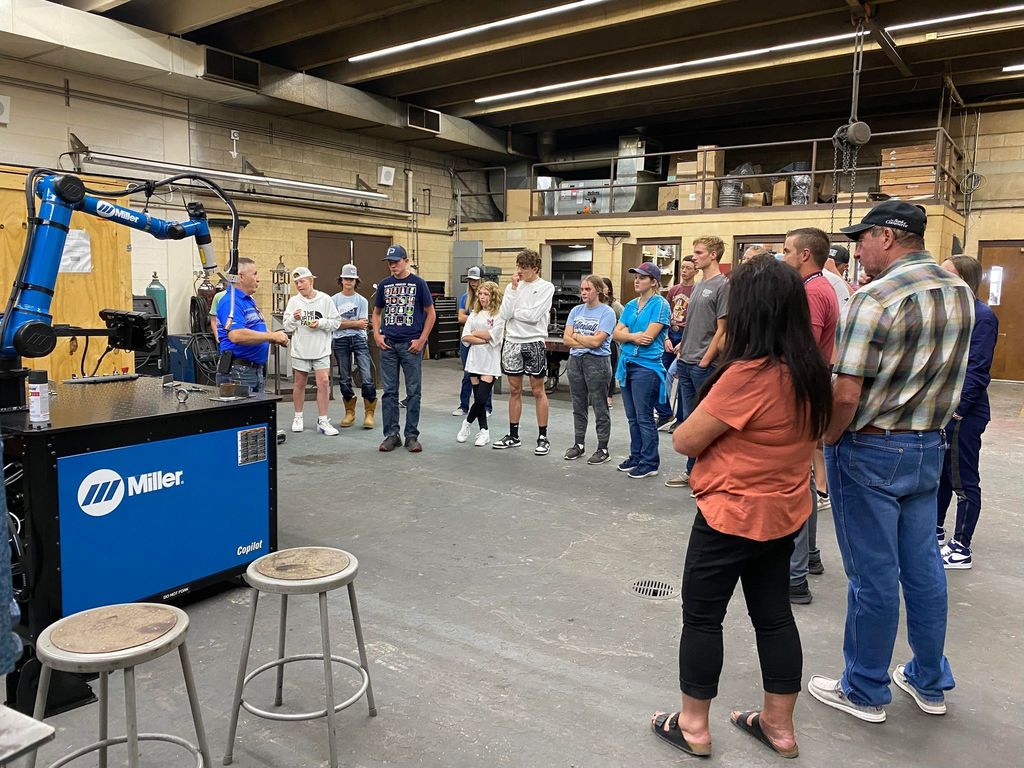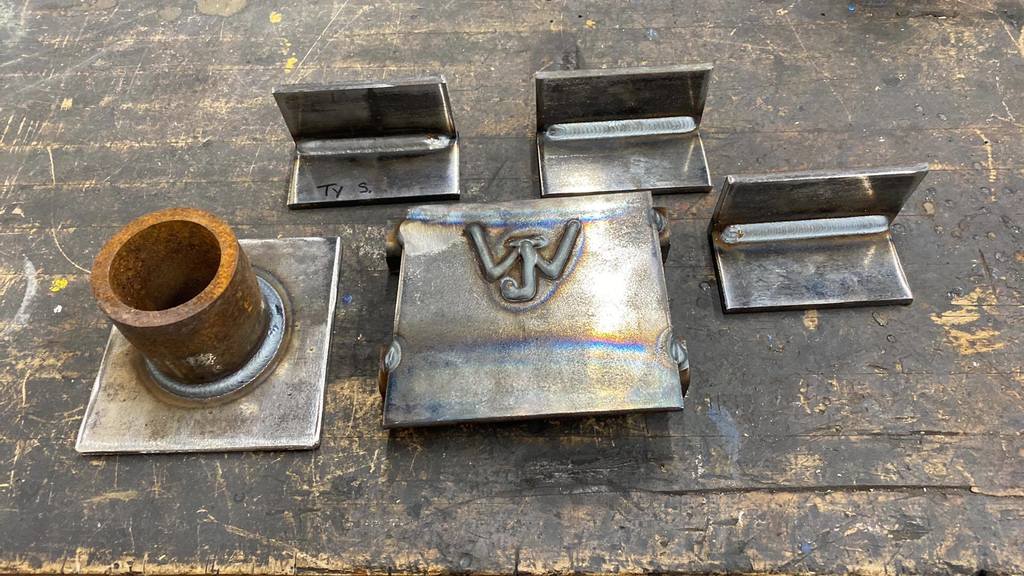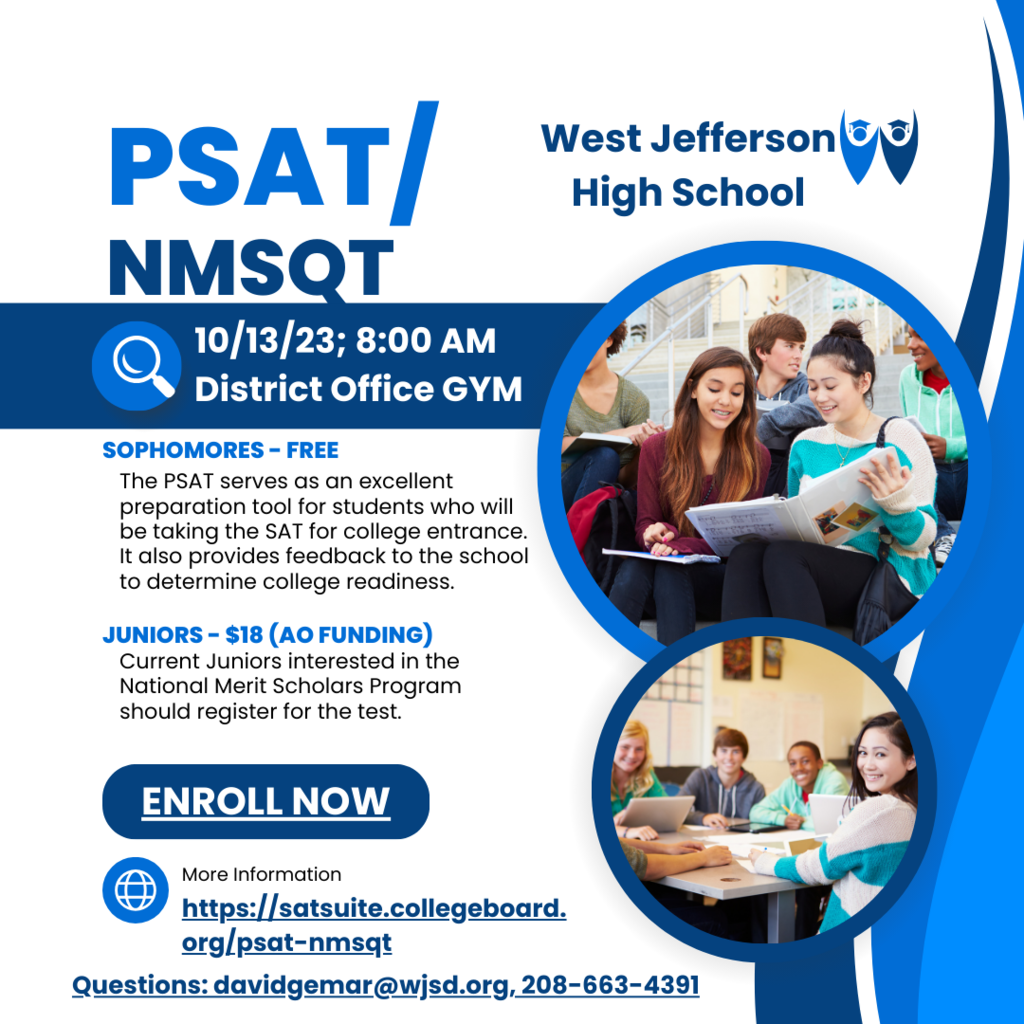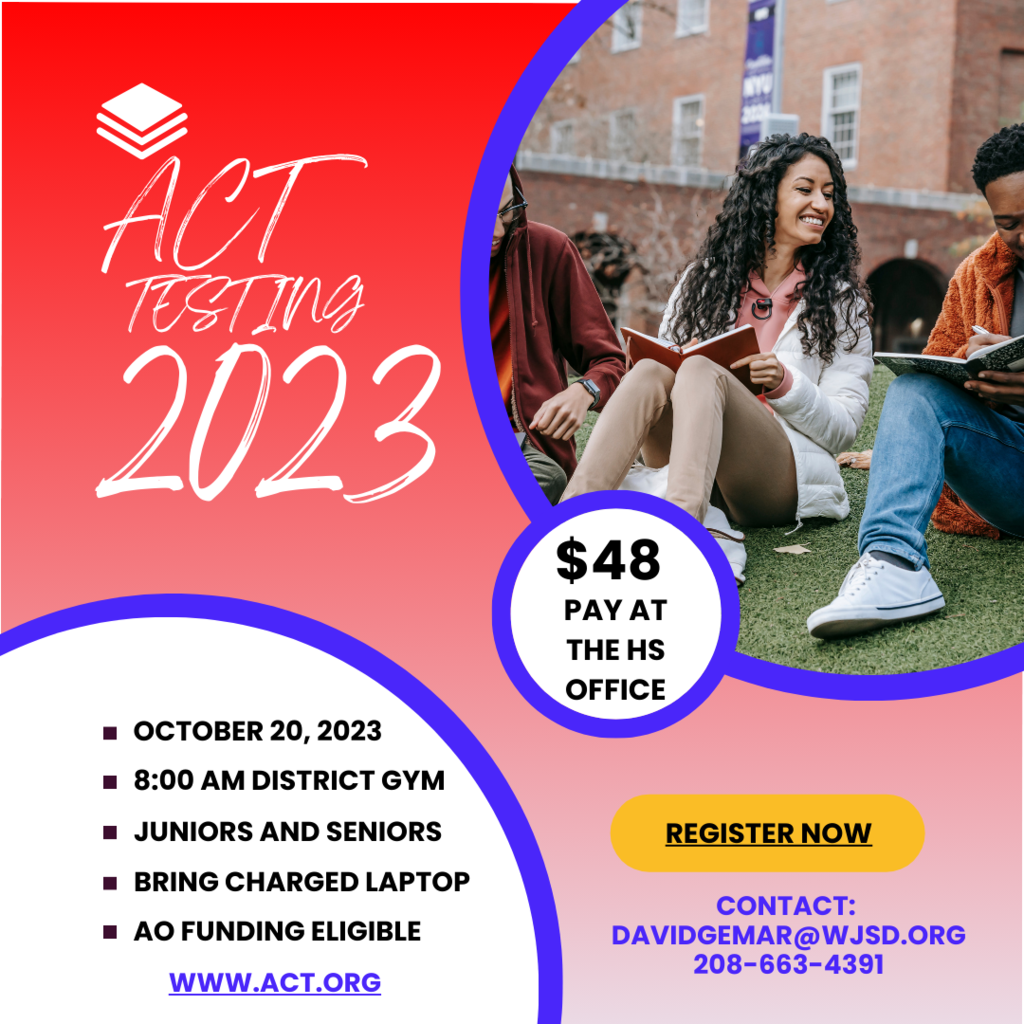 Job Openings for West Jefferson School District as of 9/11/23. We have had Part-Time Bus Driving positions posted for over a year. If you will notice on this list of Job Openings, we have added a Full-Time Bus Driving position with full benefits. (Our full-time employees receive Health, Vision, Dental, & Life Insurance, Telehealth, and PERSI Retirement Benefits.) This position can be applied for by current employees or new applicants. If you or anyone you know might be interested in these positions, please fill out a Classified Application (available on our website or at our district office.)
https://www.wjsd.org/o/wjsd/page/job-applications
Contact Mr. Williams if you have any questions.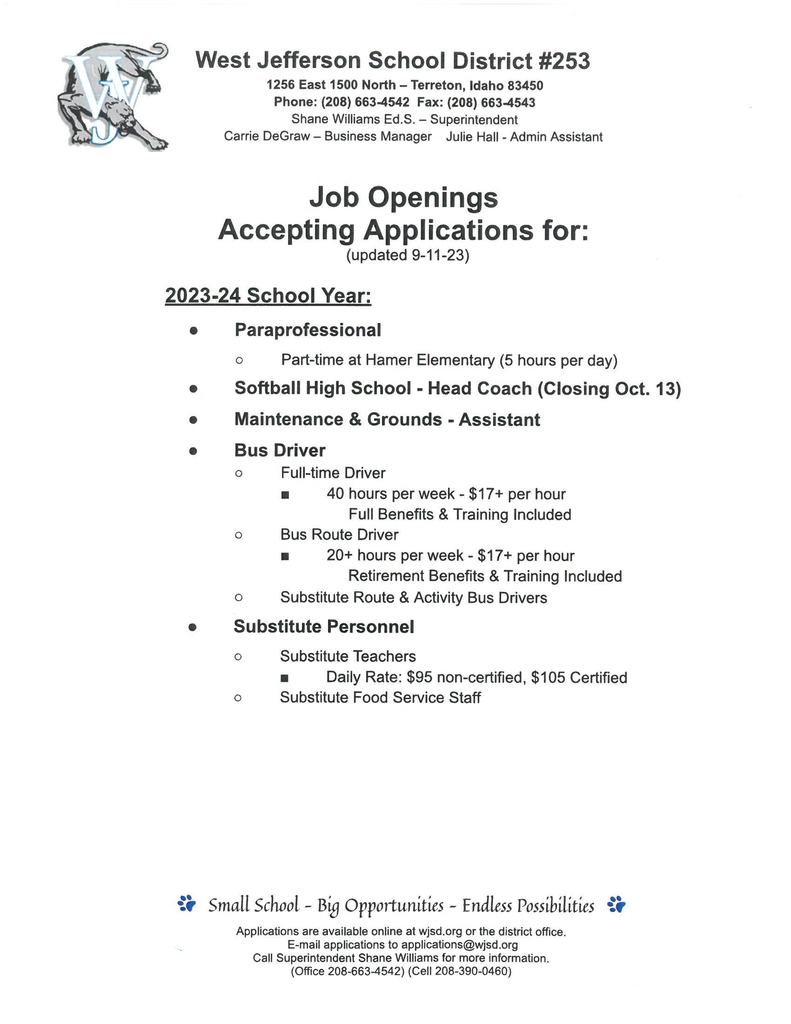 WJ Athletic Events for the week of Sep. 11-16, 2023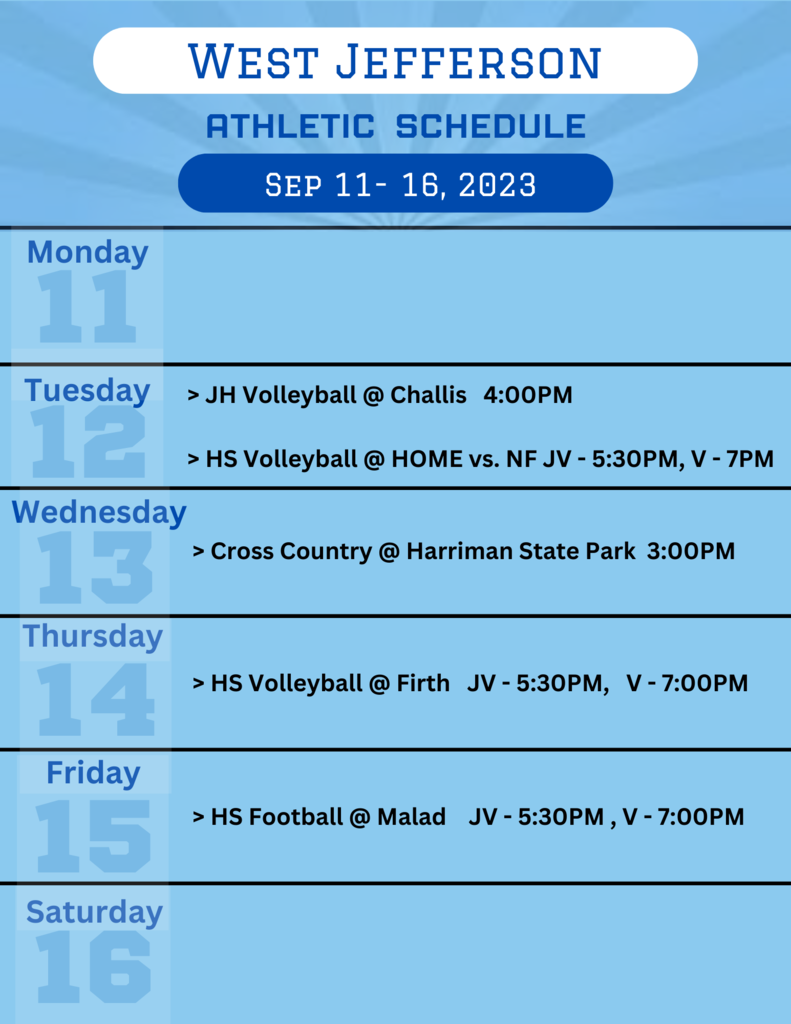 Our High School and Junior High Cheerleaders. Have a great year!